I wanted to pass on a nice little resource that I found the other day.  I was searching for "Christian timeline" and found God In America: Timeline – Faith in America.
The timeline looks at three main topics: Religious Liberties, Market Place and Social Reform.  It starts in the year 1592 and goes to 2009.  The timeline is interactive.  Clicking on a specific point on the timeline will open up a pop-up that will provide links to on-site article, resources and interviews.
On the right of the page there are even more features: American Scripture, God in the White House (cough), People & Ideas, The Black Church, Study Guides and more.  On the top of the page, you can link to watch the full program.  The site is hosted on the PBS website.
WARNING: You will not agree with everything on this site.  There is no way that a program like this could cover EVERYTHING regarding Christianity in America.  Some of the comments refer to the producers picking and choosing which events and people they highlighted. One reply by the site directs readers to an interview with the series producers on how they made the decisions on which stories to highlight.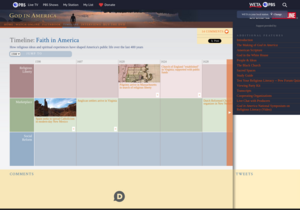 This article first appeared on Ed That Matters.

Get updates in your email when a new article is posted. Join the Newsletter or grab the RSS Feed.
If you enjoyed the article, please vote for the site at Top Prepper Websites.

Copyright – Content on Ed That Matters (unless the work of a Third-Party) may be reproduced in part or whole with attribution through a link to www.edthatmatters.com. If you are interested in a Third Party article, please contact the author for permission.