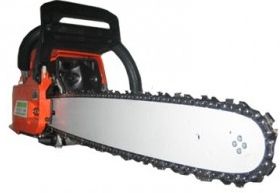 Although some may assume a chainsaw is more of a homesteading tool rather than a survival tool, I want to disprove that assumption. Obviously, you are probably not going to find a chainsaw in your survival gear, nor will one miraculously appear in a survival situation, but hear me out. The whole idea of preparing for a survival situation hinges on the preparation aspect. A chainsaw is a valuable tool in survival training and preparation.
Part of your training should include spending some time outdoors around a campfire. It would be nice and easy to use a chainsaw to get your wood. Before you pick up a chainsaw, you need to understand a few things about this extremely dangerous tool. First, know this, the chain that cuts through a hard tree is moving around that thing at a rate of about 75 mph. Imagine a car speeding towards you at that rate of speed. Get where I am going with this? That blade is nothing to mess around with and requires a great deal of safety and care when handling.
One of the key safety tips when handling a chainsaw is the position of your body in relation to the saw. You must be prepared for the saw to kick back. Check out the video to get a better idea of what I am talking about. Another important tip is to keep the blade sharp. A dull blade will cause you problems. Also, do not disengage any of the safety features that are a part of the chainsaw. It is a common practice to hinder or remove certain features to make the sawing easier, but it is so incredibly dangerous it is not worth it.
Each manufacturer will have different safety features. It is imperative you take the time to read through your manual before you start using your chainsaw. It is also a good idea to wear safety gear when you are chopping down trees or sawing a log. Ear and eye protection are extremely important. Some people choose to wear heavy steel-toed boots, face guards and heavy pants to protect them in case there is an accident.
Once you have read through your manual and gotten a good idea on how to handle the chainsaw, start small. Do not head out for the biggest tree in the yard and start sawing away. Get a feel for the saw by starting out on limbs and small trees before attempting to tackle a big project.
Craig Caudill teaches basic survival training at Dan's Depot and his Nature Reliance School.
This article first appeared on Ed That Matters.

Get updates in your email when a new article is posted. Join the Newsletter or grab the RSS Feed.
If you enjoyed the article, please vote for the site at Top Prepper Websites.

Copyright – Content on Ed That Matters (unless the work of a Third-Party) may be reproduced in part or whole with attribution through a link to www.edthatmatters.com. If you are interested in a Third Party article, please contact the author for permission.