Fox news had two Superintendents on today to discuss measures that their districts have taken to arm certain educators on their campuses.  One of the superintendents, David Thweat of Harrold ISD, has had this in place since 2007 after the Virginia Tech Massacre.  I remember seeing a lot of posts on Facebook about this district right after Sandy Hook.  The other superintendent, Kelly Bagget, of Levelland ISD, didn't waste time coming back from the Christmas break in January to get a committee together to discuss and research the possibility of doing this.
So where other districts are still talking about the situation, these districts have done something about it.  Why does it take so long to get something done?  They rammed the STAAR test down our throats without having it completely thought out….  We didn't even receive passing standards for the year 2011-2012 till February of 2013!  If a teacher did that to her classroom, they would be strung up to dry!  Ok…I'm ranting.  But wouldn't this be "what is best for students?"  In these various school districts, most of the community has come out in favor of these decisions… So what's the hold up?
Yes, there are some teachers we don't want handling a firearm on campus! 😉  But we are not talking about arming every teacher.  These measures choose a select few educators on campus who have their Concealed Carry License and have gone through training.  Again, what's the hold up?
Megyn Kelly made the comment that these school districts were in rural Texas and that they didn't have their own police force.  These districts would have to mostly rely on the Sheriff's Dept. to respond to any school incident.  But let me remind you…, although I am grateful for police officers and how they put their lives on the line to 'protect and serve' AND I am very grateful and impressed how quickly our own district police have responded to suspicious activity, that police officers don't prevent crime, they respond to it.
Recent reports have said that it took Adam Lanza five minutes to commit the massacre at Sandy Hook.  He had a lot more ammo and could have done a lot more damage if he hadn't taken his own life.  Any time that an armed educator: teacher, administrator…or even janitor could have used to distract Lanza and give students and teachers more time to get out would have been worth it.
So let's stop making schools "Gun Free Zones."  Have you visited a court house lately?  The last time I went to serve on a jury I went through a ton of security measures: metal detectors, armed guards, emptied out my pockets, etc…  Every other government building has these measures put in place and anyone who goes there to cause harm knows they are going to have to go through that first. Why wouldn't our schools, that hold our future generation, have it too?  Signs are not enough.  Murders don't care about them!
Peace,
Todd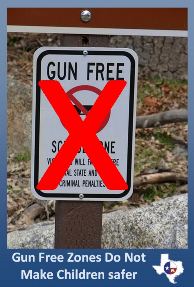 This article first appeared on Ed That Matters.

Get updates in your email when a new article is posted. Join the Newsletter or grab the RSS Feed.
If you enjoyed the article, please vote for the site at Top Prepper Websites.

Copyright – Content on Ed That Matters (unless the work of a Third-Party) may be reproduced in part or whole with attribution through a link to www.edthatmatters.com. If you are interested in a Third Party article, please contact the author for permission.