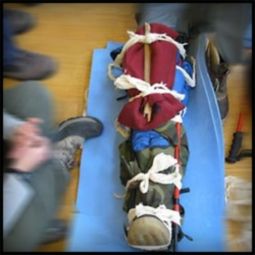 A broken bone whether partially broken or fully broken is a serious medical condition that needs immediate attention. In the wilderness,this is a more serious concern since immediate medical attention cannot be sought, and transporting or even adjusting a person with a broken bone is a very inconvenient and difficult process. In this article, we shall deal with first aid treatment applicable in the wilderness, should you be faced with such a scenario.

Secure your ABC's – Fractures are often a result of falls or a limb being hit with a hard object. Should a person sustain a possible fracture, ensure that the patient's ABC's (airway, breathing, and circulation) are stable at all times.

Stop the bleeding – Open fractures may pierce through the skin and cause bleeding. Should this happen, apply gentle yet firm pressure to stop or at least minimize the bleeding. Always use a clean cloth or sterile gauze when applying pressure. Make sure to have a handy pair of sterile gloves to avoid direct physical contact with the blood.

Rinse the wound – Rinse any open wound with sterile water to wash away any dirt and debris, which may be a potential cause of infection.
Attempting to reset an open fracture – This is a very tricky, sensitive, and critical scenario as two trains of thought occur in the medical profession as to what to do. Some would suggest resetting the bone at once to promote better bone and wound healing, while some would advice allowing the protruding bone to cork the wound and stop any further bleeding. Not resetting the bone immediately would also prevent any further damage to nerves and blood vessels should you decide to push it back. With regards to this, I suggest a more prudent approach and let the bone be. In this scenario, it would be better to control the bleeding, rinse the debris out of the wound, and then apply a dressing, and a splint if needed. Resetting a bone is a medical skill and should be left to qualified healthcare providers. Should you want to learn how to reset a bone, I suggest taking a course on it, if it is available in any certified first aid course.

Check the pulse – It is important to check for a major pulse nearest to the fracture to make sure that an artery is not severed and circulation is not compromised. For example, a break in the arm or wrist means you have to check the wrist pulse or where the thumb and hand meet the wrist. There are several other pulse sites that need to be checked for a particular fracture.

Watch out for shock – An otherwise benign looking fracture might be bleeding profusely from within, so watch out for any signs of shock. Make sure to keep the patient warm and observe for any changes in consciousness.
Splinting – This is an essential first aid skill to master for first aid treatment of broken bones. Splinting immobilizes the affected area and prevents it from moving further and potentially aggravating the fracture. You can get creative when splinting a fractured area as you can use a multitude of items, depending on what you have and what you can gather and how long the afflicted area is. You can use tent poles, backpack frames, sticks, and even a rolled up newspaper to create a splint. Practically anything straight and stiff will do.
When splinting simply apply the splinting material on both sides on the broken bone and secure with tape, cloth, bandana, or cordage. Ensure that you properly secure it and that the afflicted area does not move. However, take care not to tie the securing material too tightly as you might compromise blood flow. You can also create a sling for arm or wrist fractures with a large triangular bandana or large t-shirt as well. One more thing to remember with fractures is to avoid any form of weight bearing on it. For lower extremity fractures, you can make a crutch from tree branches, so the patient can avoid putting weight on the fractured area. Give over-the-counter pain medications, such as ibuprofen or acetaminophen to help relieve or at least minimize the pain. Avoid giving aspirin, as this may aggravate any bleeding.
When you have accomplished the given first aid management above, it is imperative to transport the patient immediately to a hospital or EMS for further medical management. Fractures are serious injuries that demand immediate medical attention.
Dr. Estra is a medical contributor to Dan's Depot. Click here to check out Dan's survivalist forums.
This article first appeared on Ed That Matters.

Get updates in your email when a new article is posted. Join the Newsletter or grab the RSS Feed.
If you enjoyed the article, please vote for the site at Top Prepper Websites.

Copyright – Content on Ed That Matters (unless the work of a Third-Party) may be reproduced in part or whole with attribution through a link to www.edthatmatters.com. If you are interested in a Third Party article, please contact the author for permission.